As the world's youngest nation, Uganda is a country full of hope and promise. It is a country geared towards a bright future, one that is fueled by young people with big dreams and even bigger hearts.
Despite extreme poverty and a lack of education infrastructure, Ugandan children are finding ways to thrive. They are developing their own talents to bring global attention to their country, attention that will help provide opportunities for themselves and their peers.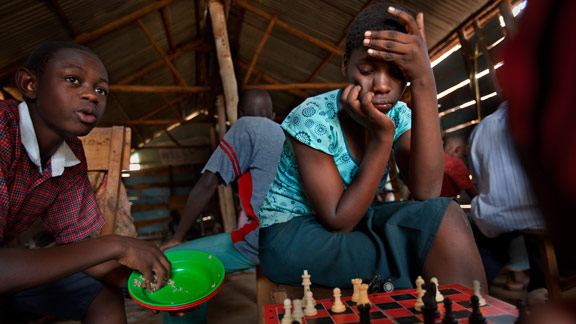 One such young Ugandan star is Phiona Mutesi. This 15 year old girl comes from an impoverished family and just recently graduated from primary school. Though she still struggles to read and write, her sharp mind has proven to be her greatest strength. It has enabled her to rise to success as Uganda's best female chess player and travel the world to represent her country. In one major tournament, the World Chess Olympiad, Phiona won a prize of half a million shillings (more than 150 US dollars), which her family used to buy beds and mattresses so that they would no longer have to sleep on the floor. Even though her talent is undeniable, many in the chess world did not take Phiona seriously. Afterall, she was just a nobody from a slum. For some, chess in Uganda was considered a sport for upper class schoolchildren, and one in which children who must work to support their families didn't belong. Despite the naysayers, Phiona pushed forward, and continues to do so. She has refused to let the difficulties of her situation hold her back, and dreams of one day becoming a household name as "a grandmaster" of chess. Her mentor, Robert Katende best described her success when he said, "In chess, it does not matter where you come from. Only where you put the pieces."
Another symbol of hope for the country is found in not just one outstanding young person but the entire Ugandan Little League Baseball Team. This year they became the first African team to play their way to the Youth World Series. This was a particularly impressive feat given that Kampala did not have an established youth team until 2004, and in just 7 years were able to cultivate a world class group of athletes. The 11-12 year-old players have worked hard to develop their skills and will proudly represent their country at the competition in Pennsylvania this August. Not only will the tournament provide them an opportunity to interact with their peers from around the world, but also to gain attention from baseball scouts and recruiters – signs of very bright futures for these young baseballers. The amazing things that they have accomplished in the early years of their lives are already much to be proud of. On the Ugandan Little League website, it explains that the story of the team is "a story of overcoming obstacles and doing things that people said could not be done."
Phiona Mutesi and the members of the Ugandan Baseball Team are fine examples of a country working hard towards a better future, despite the odds. Uganda is a nation of young people, and by that virtue a nation swelling with immeasurable potential. Without safe and local schools for Ugandan youth to attend, all that talent is more likely to go untapped and unrecognized. Building Tomorrow's purpose is to help provide the infrastructure necessary for education, to give students a place to learn and develop their abilities, building a brighter and more secure future.
Sign up to receive email updates from us